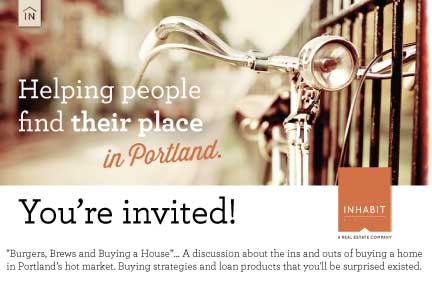 This is the first event in a series of informative discussions geared towards building community and gather knowledge about current topics in Portland…while we eat burgers in our lovely back patio.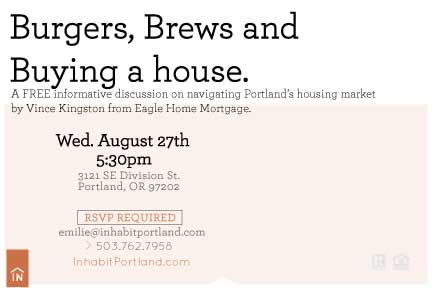 You're invited for burgers and brews. Wednesday August 27th at 5:30pm. A free informative discussion on navigating Portland's housing market. A sharp and informative homebuyer discussion chocked full of real world knowledge, financial insight, and confidence building information. 
You'll learn about Portland homebuyer programs, tax credits, how to shop strategically, as well as financial insights of homeownership.
RSVP REQUIRED
Send RSVP to Emilie@inhabitre.com — 503.762.7958
---
TOPICS TO INCLUDE:
Current Portland Purchase Market insights & insider information·
Portland's most valuable down payment assistance grant explained – up to 5% cash grant of purchase price for down payment & closing costs – available state wide
How to confidently qualify for a home loan
How to potentially secure $5,000 in down payment assistance
Portland MCC first time homebuyer tax credit
Financing and down payment options compared
How to shop smartly and shrewdly
First Time Homebuyer loan programs & opportunities
The home buying process from start to finish
Vince Kingston is a local mortgage advisor in Portland, Oregon with Eagle Home Mortgage.  Vince is a Portland Housing Center certified lending partner and one of the few area loan officers able to offer the full suite of first time homebuyer financing and tax credit opportunities including the MCC first time homebuyer tax credit, Oregon Bond loan, MAP 80 100% financing, 203K rehab financing, and more.  Vince has worked as a first time homebuyer advocate by offering first time homebuyer opportunities many local lenders are unable to offer.  You won't find a loan officer more dedicated to meeting the needs of first time homebuyers.
Vince Kingston, Eagle Home Mortgage