Celebrating 5 Years Inhabiting our Flagship Office in SE Portland
5 years ago, Inhabit Real Estate decided to put down stakes on SE Division Street at the epicenter of it all.  It was during a time that the neighborhood was experiencing tremendous growth and the landscape of the street was transforming a little too rapidly for some.  A sea of mixed-use, 4-story apartment buildings sprung up between existing shops and restaurants.  The renewed energy brought in some anchor tenants that literally transformed the entire neighborhood vibe.  Today, it's an area that literally buzzes with energy.  The street is lined with noteworthy eateries and was dubbed one of the "10 Best Foodie Streets in America" by Food and Wine Magazine.  The restaurants, unique shopping, and local vibe make it a worthy destination in Portland.  We happily claim our spot nestled between the Whiskey Soda Lounge and Bula Kava House at 31st and Division.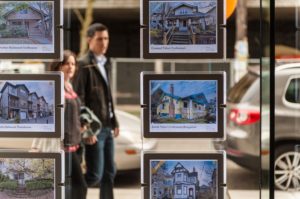 As a small, Portland-based company, our goal was to celebrate everything local in our design.  We partnered with Maven Interiors, an award-winning local design company and Christopher McDonald (our good friend and amazing carpenter/ contractor) to do the build-out. We challenged the design team to create something that was unique, sustainable and had a hand-crafted feel.  We wanted our storefront to add to the streetscape and our presence embraced by the community.
Here's a brief tour of some of the "local" aspects of our office…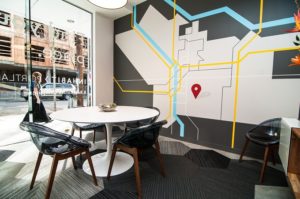 One of the first things you will notice as soon as you walk in the office is a huge mural of an abstract Portland map that we commissioned local artist Jerry Inscoe to create for us.  The red peg indicates "you are here".
We looked for opportunities to infuse art in unexpected ways.  Our interior doors, for example, became blank canvases. We asked Jerry Inscoe to collaborate with local artist Jennifer Mercede to bring our doors to life in an otherwise uninspired corridor.  Jerry airbrushed abstract backgrounds and Jennifer painted things reminiscent of Portland (Doug firs, bubbler fountains, bicycles, etc) in a whimsical doodle fashion on top.  The contrasting styles of the artists resulted in one-of-a-kind creations.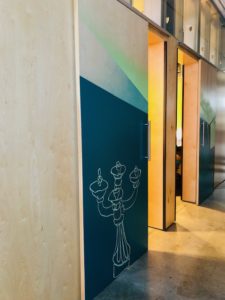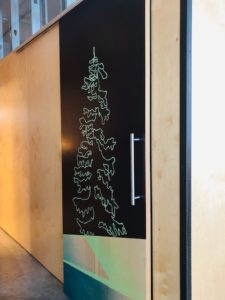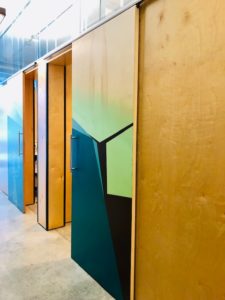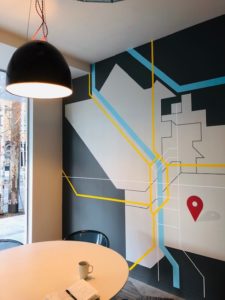 We turned to Portland's own Schoolhouse Electric for all of our office pendants lights and Pratt and Larson Tile for our handmade kitchen backsplash.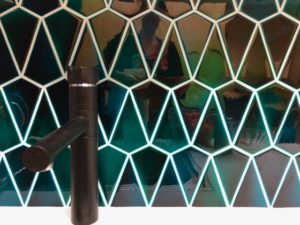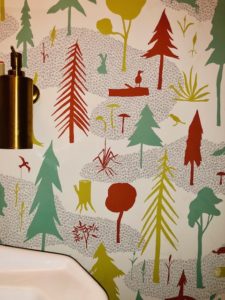 The bathroom wallpaper is the work of local designers at MAKELIKE, a graphic design collective in SE Portland.  We loved continuing the unexpected whimsy in the loo.
All of our office partitions and workstations were custom designed by Maven Interiors and hand built by Chris McDonald.  The materials used are untraditional, just like us.  We are different by design.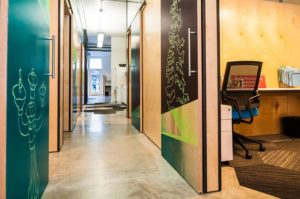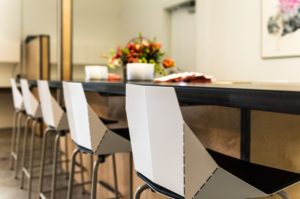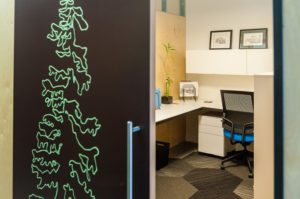 The next time you find yourself on SE Division Street, please stop by for a tour and a cup of coffee.  We would be happy to make your acquaintance.