If you've spent any time driving in Portland, you've seen it; that ubiquitous bumper sticker saying Keep Portland Weird.
It's a slogan originally promoted by the owner of Music Millennium to promote the support of small business, but was quickly embraced by the city's residents as a motto to live by.  What is it that makes Portland so unique and… well, weird? Many think it's the creativity of those who live here, and you can find it expressed in our hobbies and events happening all year long.  
Want to experience Portland's weird vibe? Here are 10 of the strangest events we could find around town. Everyone knows about the Rose Festival, beer fests, and Voodoo Doughnut, but add these to your 2019 calendar and you'll know what makes our town so Portlandesque.
10 Minute Play Festival – Coming up quickly, March 7th through 10th, Clinton Street Theater hosts a plethora of plays at the 10-minute play festival. As you might guess by the name, the 10MPF stages a series of short plays each night. It's a great way for local playwrights to produce shows and audiences to enjoy works from local artists. More info here.
B-Movie Bingo – The Hollywood Theater is a beautifully restored movie venue which hosts both culturally significant and culturally insignificant events throughout the year. It's worth a visit to their website to check out their calendar. Or, you could plan regular visits on the first Tuesday evening of every month to play B-Movie Bingo, where bad movie clichés can earn you prizes and talk during the show is expected. The March 2019 show is a screening of 1994's Guardian Angel, which easily slots this in the culturally insignificant (but fun!) category. More info here.
Rose City Rollers (RCR) – If you've never watched roller derby, you're missing one of the most entertaining sports around. Strong, competitive women battle to victory – sometimes backward – on skates. The RCR All-Stars are good, too, having brought home the World Flat Track Derby Association (WFTDA) Championship in 2018. They skate at Oaks Park, and the season runs from March through June. More info here.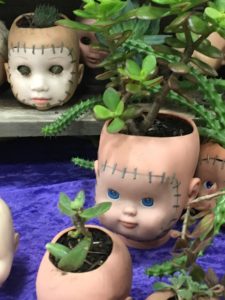 Crafty Wonderland – This is the event that puts Portland-makers on display. You'll find specialty food, clothing, handcrafted jewelry, and even upcycled doll heads. Their main event is in December, but the smaller spring market is happening May 4th at the Convention Center. Stock up on unusual birthday gifts here. More info here. 
Filmed by Bike – We don't mean to put too much focus on Hollywood Theater, but I did say they host some great events. One not to miss is the 17th annual Filmed by Bike festival. The event draws filmmakers from far and wide, and is an opportunity to see some unique cinematography that gives a new meaning to "rolling." Festivities run May 17-19. More info here. 
Muppet Movie Singalong Bike Ride – The Muppet Movie, arguably the best kids' movie of all time, was released 40 years ago on June 22nd. What did those adorable characters love nearly as much as chasing their Hollywood dreams? Singing and riding bikes. You can make like Kermit and ride your Schwinn starting at Irving park while the songs from the movie play along. More info here. 
Weird Homes Tour – This one is right up our alley. We're all about homes, and Portland is all about weird, so why not join the two? On June 29th, 8-10 unusual Portland homes will be on tour to ticket holders, and home addresses will be released just before the self-guided event. More info here. 
Portlandia Mermaid Parade – Who doesn't like mermaids? I mean, as long as they aren't the traditional kind that lures sailors to their deaths. These are the ones that sparkle and shine on parade along the Portland Waterfront. Dress up and join the fun or be a spectator and watch the red hair flow on Saturday, July 27th. More info here. 
Adult Soap Box Derby – If your boy scout pinewood derby car came to life, you'd race it here. Grown adults build gravity-powered racers and send them down the swooping turns on Mt. Tabor. Builders either go for speed or creativity, but rarely both. The races, plus the lovely setting with views of downtown and food carts providing refreshments, make this a favorite summer tradition. August 17th at Mt. Tabor Park. More info here. 
Vaux Swifts at Chapman School – This phenomenon is not organized by humans, but is still a marvel of organization and coordination. Every September, a colony of Vaux Swifts has nested in the chimney of Chapman school in NW Portland. About an hour before sunset every evening, the birds gather, swoop and swirl in captivating patterns before diving into the chimney for the night. Bring a picnic dinner and sit on the school grounds for the display.
Of course, these are just a few of the hundreds of events around town. If you're thinking of moving here and want to learn more, contact me and I'll be happy to help you find the events, neighborhood and house that makes you feel at home in wonderful Portland.