Chasing Autumn's Palette:  My top 3 hikes
As summer gracefully yields to the crisp embrace of autumn, the Pacific Northwest becomes a tapestry of vibrant colors, making it the perfect time to embark on memorable hikes. Among the region's many gems, Silver Falls, Salmon River Trail, and Latourell Falls are a must-see!
These are truly some of my favorite fall hikes and I am excited to share them with you!
1. Silver Falls State Park: Nature's Masterpiece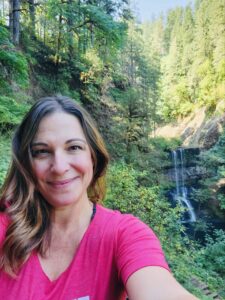 (Photo taken this past weekend!)
Silver Falls State Park, located in Oregon, is renowned for its magnificent waterfalls and lush forests. The trail takes you behind two falls that are the perfect backdrop for photos. At the right time of day, the sun hits the trees perfectly to show off the vibrant colors of the forest.
Here are two options for choosing your best trail experience:
A. Trail of Ten Falls: The crown jewel of Silver Falls, this 7.2-mile loop trail introduces hikers to a mesmerizing array of waterfalls, including South Falls, which cascades amidst vibrant foliage. The trail's moderate difficulty level makes it accessible to all.
B. Maple Ridge Loop Trail: For a shorter, family-friendly hike, the 2.5-mile Maple Ridge Loop Trail offers panoramic views of the forest canopy, highlighted by the fiery hues of maple trees.
2. Salmon River Trail: A Wilderness Retreat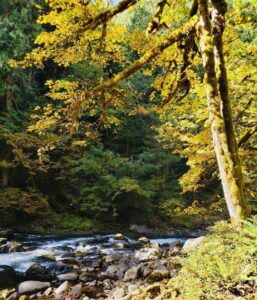 Salmon River Trail in Oregon is a hidden gem that comes alive with autumn colors. This family-friendly trail takes hikers deep into the wilderness, providing a serene and remote hiking experience. If you go at the right time, you can see the Salmon spawning in the crystal-clear water!
The Salmon River Trail offers a family-friendly 5.2-mile hike with breathtaking views of the Salmon River, which is surrounded by towering trees adorned with golden and red leaves in the fall. As a less frequented trail, you'll have the chance to immerse yourself in the tranquility of nature, with the soothing sound of the river as your constant companion.
3. Latourell Falls: A Columbia Gorge Beauty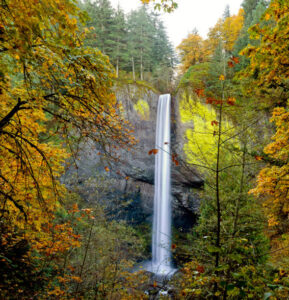 Latourell Falls, located in the Columbia River Gorge of Oregon, is famous for its stunning single-drop waterfall and vibrant fall foliage. Make sure to hit this trail early to avoid crowds.
Here are two options to get the most out of your experience:
A. Latourell Falls Loop: This moderate 2.4-mile loop trail provides a close encounter with the 224-foot Latourell Falls, framed by a backdrop of striking autumn colors. Once you pass the 2nd waterfall, you will climb to views that are unmatched in the Columbia River Gorge.
B. Latourell Falls: This easy .23-mile hike is perfect for your family of all ages to get a gorgeous view of the falls and see all the Autumn colors with giant golden leaves. Make sure to pack a picnic lunch to enjoy in Guy Talbot Park after your hike.
Tips for making your hikes worry-free:
1. All of these parks require a day-use pass for $5. You can also purchase an annual NW Forest Pass and/or a State Park pass for $30
2. Dress for the weather, layers are best during this time of year.
3. Leave no trace. Please pick up after yourself and your pet (No dogs allowed at Silver Falls)
As the Season changes, the Pacific Northwest's hiking trails beckon with their enchanting beauty.
Silver Falls, Salmon River Trail, and Latourell Falls are just a few of the region's gems that offer
unforgettable fall hiking experiences. Whether you seek the grandeur of waterfalls, the solitude of
remote trails, or the charm of single-drop cascades, these destinations promise a symphony of
colors and a deep connection with nature. So, put on your hiking boots, grab your camera, and
immerse yourself in the wonders of autumn in the Pacific Northwest.
What are your favorite hikes?  Reach out, I would love to hear from you.  As an avid hiker and Oregon native, I love sharing my favorite gems.