Many people wonder if it is a good time to sell during this pandemic. Is it safe? Are houses still selling? How does it work?
The latest statistics show that although there are fewer homes listed for sale, Portland's real estate market is still robust. The great news is, home inventory and interest rates are still quite low, and depending on motivation, people either desire or need to change their living situations.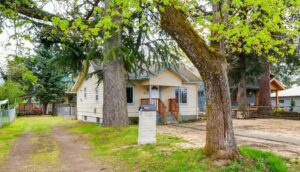 So how is it different now? As real estate brokers we are seeing an increased need for comprehensive marketing strategies that include agent only video tour, 3-D video, and floor plans. We are all using a no touch policy, safe practices such as wearing masks and gloves, wiping down surfaces and physical distancing.

Here is a recap of my currently pending listing:
When it came time for these sellers to move, I walked through the home and made notes regarding what to do to prepare for sale. This was done while the seller was working outside in his oversized yard.

I reached out to my team of contractors and coordinated, interior paint throughout, carpet to be installed, power washing, gutters to be cleaned, professional yard maintenance and a deep cleaning. Everyone did their jobs on different days. Then I wiped down high touch areas after interior work was done.

When the home was ready, I lightly staged the home, and last but not lease my cleaning team made the home safe for potential buyers to take a look.

The photographer used protective gear while taking photos and video.

Instead of an open house, I offered 3-D walk through tour (Matterport Tour) and the home's very own website for easy online viewing.

When buyers wanted to see the home in person, appointments were booked with ample time between to allow everyone space.

When the right offer came along, all paperwork was filed electronically. This is a service we have been using for years and are quite familiar with.
All this work has been done during the "shelter in place" order! Real estate is considered essential, and people need to sell or purchase for many different reasons during Covid-19.

Are you looking to invest in a home? Whether you are a first- time home buyer or adding to your real estate portfolio, I will provide exceptional professionalism, well-informed service and guidance through your sale or purchase.