(Not the definitive history, but my version, which includes maybe a little hearsay, a little mythology)
Something like 45 years ago, the federal government decided to put a freeway into Portland and bought up a swath of old houses along the proposed route –– SE Division Street. Scrappy Portland citizens said "we don't want your stinkin' freeway" and managed to force the project to be abandoned, which left the government holding a ton of properties. The government decided to get rid of the properties and because governments are so good at turning a profit, they sold the houses for pennies on the dollar.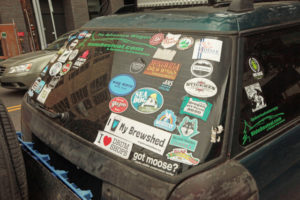 The timing was perfect for hippies. San Francisco was getting pricey. So tons of them hitchhiked up north to a land where you could drive a VW bus 20 minutes in almost any direction and find yourself in a gloriously beautiful setting –– you could take a quick hike through misty woods, pluck a couple of psychedelic mushrooms, and bliss out naked in a hot spring.
Up until that point, Portland was a rough, blue-collar manufacturing and timber town. But so many hippies invaded that the city's personality changed.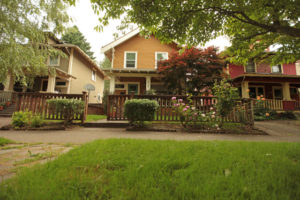 The hippies turned their craftsman houses into goat barns, pottery studios, rooming houses, and mini ashrams. They didn't have the money (or inclination) to tear the houses down and build modern houses, but they put enough love and care into them to keep them from falling completely apart.
35 years later, the rest of the country discovered this little time warp and what it had become. Disaffected young people from all over the US started moving into the city in hopes that they, too, could live a life where a kombucha culture got more attention than a time sheet.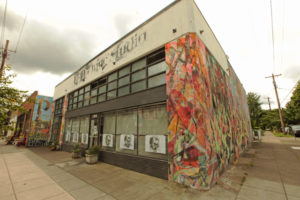 About 15 years ago, I can't remember who, but some adventurous chef decided to open a restaurant on SE Division, driven mostly by how inexpensive the property was. The restaurant became a media darling and other chefs came in with their restaurants. Soon Division became a culinary destination. That's about the time that I moved into the neighborhood. I used to walk five blocks to Pok Pok, sit down, and have a great lunch. Now you have to wait in line for an hour to get in.
I remember when the first condos went up in the neighborhood and the developer priced the units at the audaciously exorbitant price of $225,000 a unit. I bet he's kicking himself now. I know I am.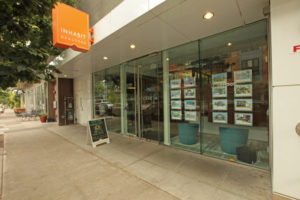 Division these days is one culinary experience after another, with pricey little boutiques interspersed in between. But a lot of the original residents are still there. They like to complain about having to pay $4 for a cup of coffee and about how they have to park sometimes a block away from their houses, but their homes are worth $750,000 and up.
Division street itself is becoming a canyon of condos, which is hard to square with its original vibe. Many of the restaurants there are now mini-chains. The Bollywood Theater is a wonderful example of a really neat restaurant that was established in another neighborhood, but has a branch on Division. Those of us who have lived here long enough feel like that's some kind of betrayal, but let's be honest, the food is good and they only have two locations. That doesn't make them The Great Satan.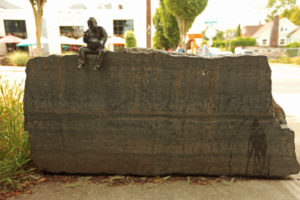 Division is super close to downtown. You just hop on your bike and pedal thirty some-odd blocks and you're at the river. Take the Hawthorne Bridge across and bam, you're there. Bonus, Hawthorne is about a half mile to the north and Clinton is two blocks south and a little west. Getting to the airport is pretty easy, too. Just head east to the 205 Freeway and go north. It used to take me 20 minutes. I suppose now it's 35 when there's traffic.
Some of my favorite places on Division:
Scottie's Pizza (One of the best pizza places in the city. And that's saying a lot. Portland has tons of great pizza places.)
Bollywood Theater
Pok Pok
Lauretta Jeans (Amazing pie. I take my kids there for Pi Day every March 14th and the place is packed with math geeks.)
Pinolo Gelato (Just a couple blocks from Salt & Straw. I like it better.)
Cibo (*&$%!! good happy hour, with another amazing pizza.)