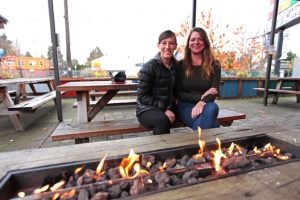 You know me. I love pizza. So it should come as no surprise that I love Foster-Powell.
I mean, just look at it on a map. It looks like a slice of pizza!
Yeah. I know. Tenuous. But check this out! Two of the finest pizzerias in all of Portland are in the neighborhood –Char and Pizzeria Otto (which just opened its second location at SE 72nd and Foster). Char is awesome not just because the pizza is amazeballs, but also because the people are super nice and they name the pizzas on the menu after their cats. How Portland is that? And Otto is awesome because the pizzas are wood-fired deliciousness! It's going to be fun to see these two duke it out.
(I should probably also mention Assembly Brewing, where they make a damn fine pizza in the Detroit style. The only reason I didn't put it up there with those other two is because honestly, I've only had Detroit style pizza at Assembly Brewing and who knows? Maybe you people who actually know what a Detroit pizza is supposed to taste like would consider it an abomination.)
Two — maybe three —awesome pizzerias would make a neighborhood special in just about any other city that's not in Italy. Let's be honest, in Portland, it's barely notable. Portland has more amazing pizza places than anywhere I've ever been.
So let's forget about pizza. Let's talk about what makes FoPo special.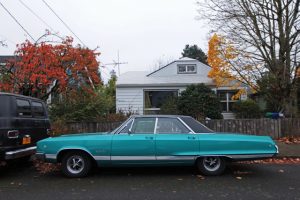 FoPo is unusual in a Portland neighborhood way in that there's no central village. It's bordered on the south by SE Foster and on the north by sE Powell. You're super smart so you probably already figured out that that's how it got its name. The border on the east is SE 82nd, or as I like to think of it, The Crust, because let's be honest, that's kind what it is.
They keep trying to turn SE 82nd into something it isn't, meaning to draw your attention away from the auto parts stores and motels and to get you to notice the …um …what? Carpet stores and fast food chains?
The most recent effort was to rebrand SE 82nd as The Jade District, which sort of makes sense. There's a disproportionate number of Asian businesses on 82nd, places where you can get fantastic dim sum, pho, bahn mi, even groceries they don't carry at Freddy's or Safeway. In amongst them you'll find a fish market, hispanic restaurants, fast food places, and other stuff. But it's a busy street — a highway, even — so it gets no charm points like Woodstock or Gladstone.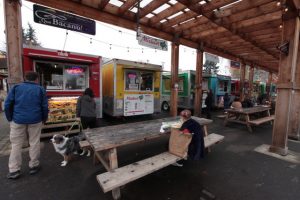 Foster and Powell are slightly less busy than 82nd, but they're still busy thoroughfares, which make FoPo kind of an island in a swirling sea of commuters. And appropriate to its island-in-the-swirling-sea metaphor, it just might be the best place in Portland to buy fish and seafood. You can get better live lobster cheaper at the no-frills Asian seafood places on Powell than at the fancy-schmancy grocery stores. And unlike the fish markets where they splay dead fish on ice, how awesome is it to make eye contact with your dinner as it swims around in its tank?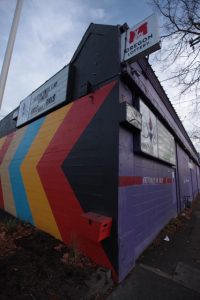 On the other hand, at the very tip of the pizza slice, where Foster and Powell intersect, is a Burger King. That feels meaningful, somehow.
There's a strip of Foster that's starting to develop a cool vibe, between SE 60th and SE 72nd. You've got a tango hall (not making this up — this is Portland) the requisite tattoo parlor, a vegan burger place, a neighborhood grocery, a bagel place where they actually boil their bagels the old fashioned way, and some neat bars.
That having been said, there's an "elegant" furniture store that I swear, I've driven by at least once a day for years and I've never seen a single person come in our out, plus no shortage of strip clubs, plumbing supply stores, pot dispensaries, places to buy granite countertops, and body shops. You can even buy gravel and mulch by the truckload and satisfy all your taxidermy needs almost right across the street from a gun shop.
So %$#*! Portland, right?
The neighborhood is unusual in another way. It's mostly houses. You'd be hard pressed to find a fancy-schmancy condo development in Foster Powell and that gives the neighborhood (or let the neighborhood retain a cozy, family-oriented vibe.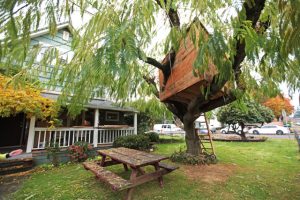 Of course, there are families and there are families. The houses in that pizza slice-shaped triangle are kind of cottage-y. They were built for the most part in the 1920's. 1930's, and 1940's as housing for lower middle class workers. Compared to the classic Portland four-squares that dominate (or used to dominate), say, Clinton and Division, here you'll find houses that are smaller and less photogenic.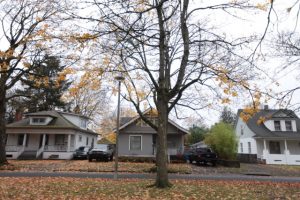 I happen to think that's a good thing. Sticking with that island thing I set up way back in the 10th paragraph, the houses here are like Mary Ann to Gilligan's Ginger, if you're old enough to get that reference. They're pretty, approachable, sensible homes and as a result, the families that make up the population have a tendency to feel kind of the same. Well, I don't know about pretty. But definitely approachable and sensible. In a city famous for not showing off, foster Powell makes other neighborhoods look like they're elbowing each other out to hop the spotlight.
What's ironic is that FoPo has become kind of a darling of Portland real estate. The recently discovered undiscovered gem, so home prices there have gone up a lot and people are moving in because it's the place to be a little more than because it's the place they want to be. According to The Portland Business Journal, the median home price is not $399,000 and what's even more impressive, the average home sold in the past year was on the market for 12 days.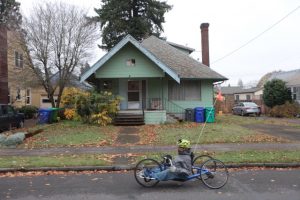 As I mentioned in another post, in Portland we have 20 blocks to a mile so even if you're out by 82nd, you're within biking distance of downtown. And it's a nice ride, too, through Clinton, Ladd's Addition, and over the Hawthorne bride. You can't even get lost. Just follow the thousands of other bike commuters making the same trip. It's a good ride back home. Short enough to do it every day. Strenuous enough that you can justify …you know where I'm going with this …
Pizza.