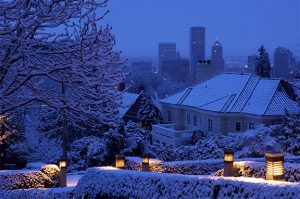 Growing up in Santa Fe, New Mexico and Tulsa, Oklahoma, I developed an affinity for the seasons. Delightfully, here in Portland, we get a wonderful taste of all four seasons, from the *generous* rainy season to some gorgeous spring days, a handful of summer scorchers and even some blustery snow days. The variety is as welcomed as it is vital, to my mental state anyway. Even the recent ice storm was something to behold. While entertaining in its drama, it was certainly disconcerting for many of us. And yet another reminder of how dear it is …our place called home.
As with the weather, the real estate market typically follows a seasonal pattern. With COVID dramatically altering that pattern in the spring of 2020, and confidence now growing with the rollout of vaccines, we suspect that inventory will start to increase as people feel more confident to sell. Sales in 2021 may not follow traditional seasonal patterns and hopefully, buyer demand and consumer confidence will remain aloft.
Even during the financial crisis of 2008 there was still demand for properties that had the right look, the right price, and were in the right location. In 2021, sellers should follow similar behavior, fixing up their property and pricing appropriately to attract the widest range of buyers. Buyers should be prepared to move quickly, possibly use pre-emptive offers (which are becoming more common), and keep an open mind when looking for their home: all purchases require some compromise (yes, even for multi-million dollar properties), so you might need a little more creativity and patience to take a diamond in the rough and make it yours.
Reach out if you want to know how to best prepare for 2021.
Market Update: January 2021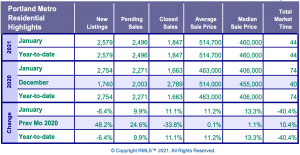 What a year already. Median home prices in the Portland Metro area reached a new high: $460,000, an eye-opening 13.3% increase over the previous year. Homes sold an average of 11.2% over list price in January, in an average of 44 days on market.
There are a large number of sellers getting ready to list sooner than the typical spring selling market, so buyers should be ready to move quickly, and sellers should be ready for a higher level of competition.
Mortgage Update
Interest rates remain at near record lows, with purchase rates in the mid to upper 2's and refinance rates only marginally higher.  We are seeing day to day volatility the past few weeks resulting in a slight upward trend in rates.  Among economists there is much disagreement, with President Biden's proposed $1.9 Trillion Relief Plan of greatest concern. The concern is that this plan may overheat the economy, leading to a stock market bubble and increased inflation, this in turn would cause mortgage interest rates to rise.  The general consensus for 2021 is that we will see more rates in the 3's and less in the 2's, which is still low enough to continue to support the strong demand for housing.
For now, rates are at record lows and it's still a great time to refinance or get pre-approved for a mortgage. If you have any questions, please contact Martin Matsumura at Academy Mortgage via martin.matsumura@academymortgage.com or 503.536.9385.