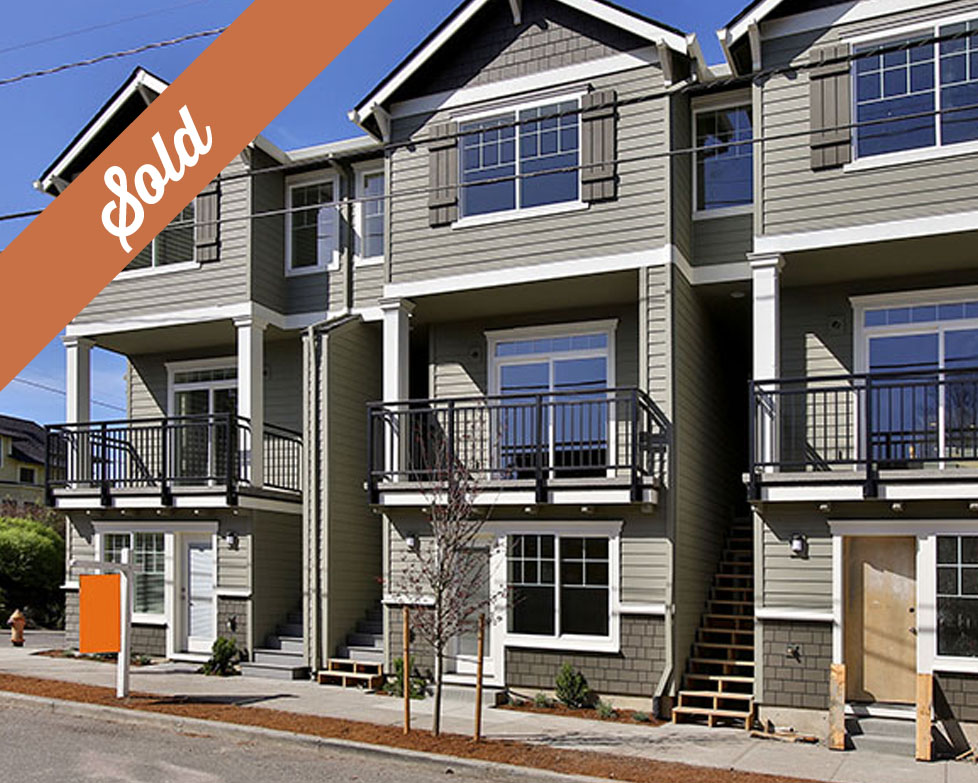 Eric recently worked with one of his developer clients from beginning to end on the Richmond Commons Condominium project. The project was a huge success for his client, the new owners and for Inhabit. The 12 homes sold quickly and are all now closed. A happy community has formed on an abandoned, under-utilized corner of SE Portland.
In a quick Q & A session, Eric explains the Richmond Commons development from land acquisition, pre-construction, marketing, all the way through to being SOLD OUT.
How did Richmond Commons come about? Where did this project begin and what was your involvement?
One of the services I provide to my developers and builders is land acquisition. I constantly keep an eye out for sites that my developer community can acquire and develop with the least amount of risk and exposure and the greatest outcome. This property hit the market and had the size, zoning, and location for very favorable development potential. The price and potential of the land that would become Richmond Commons was a "no brainer". We secured the property under contract and began due diligence for the site's "highest and best" use.
How did you help your developer client decide what to build on the site? What information do you provide?
I help my developers and builders understand the market's appetite for various types of real estate (houses, townhouses, condos, mixed-use, apartments, etc)…in other words… what will create the greatest buyer demand on the back end. We narrowed this site down to build attached townhomes or condominiums. From there, I created pricing strategies (what can we sell the unit for), absorption studies (how quickly the units will sell), lending solutions (for the take out financing) market demand (what features does the market want) and a marketing game plan to introduce the development to the market and create buzz, momentum and sales.
What are the challenges associated with this type of real estate sales? 
With larger "project work" there are tons of challenges ranging from risk management, construction scheduling, market shifts & conditions, lending environment, appraisal management, timing, etc.
Managing buyer expectations and closing coordination is also tricky. One of the biggest challenges and one of our strongest skill sets is creating and maintaining a base line value for all of the homes and staying true to it (not dropping price just to sell out). We counsel the buyers on why paying full price is actually better than getting a discount upon purchase. In a multi-unit development, all of the values are tied to each other…maintaining the base level value puts the development in a much stronger position for future resales down the road.
Was there a key ingredient that supported Richmond Commons and its successful launch into the market?
There wasn't one particular component that did it, but rather a combination of correct pricing, a solid location, a well-built energy efficient and beautiful home, favorable market conditions and a well executed marketing plan. All of these things came together nicely to create a great outcome for my developer client.
What's next now that Richmond Commons is sold out?
Well….I don't only do this type of real estate. I work with buyers and sellers every day to buy or sell all types of real estate.
As far as new projects, though….
We have a couple other very interesting projects coming down the line. One of them is in a super hot Hawthorne location with 12 modern, attached homes priced in the low-$400s. The other project is in Mt. Tabor and offers 3 ultra modern detached homes each with an ADU and situated on beautiful lots…priced in the mid-to-upper $700s. I'm happy to chat with buyers that may be interested in either of these projects.