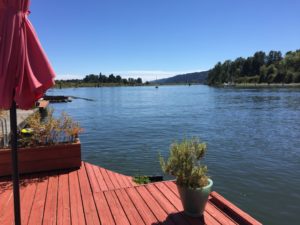 If I told you that you could own a peaceful vacation retreat at an affordable price within a half hour of downtown Portland would you believe me? Believe it or not, it's true. Within minutes of downtown Portland  (and in some cases a stone's throw), there are hundreds of FLOATING HOMES right in front of our eyes. These unique homes come in all shapes, sizes and prices and deliver a truly peaceful, fun retreat from the day-to-day grind of life.
Whether it's on the Willamette, Columbia or Multnomah Channel, there are moorages of all different styles and flavors with a myriad of floating homes enjoying a convenient, peaceful existence right on the water.
With Portland's explosive growth, dense housing landscape, affordability concerns and emphasis on lifestyle,  it's surprising that these homes aren't wildly more popular. The cat is certainly out of the bag in our "sister" cities like Seattle and San Francisco where floating homes are often just as much a consideration as land homes for primary residences or second homes.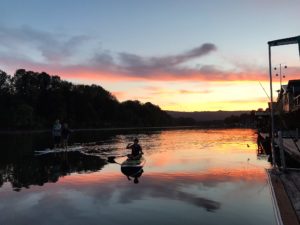 As brokers, we hear quite often from our clients the desire to purchase a second property whether it's at Mt. Hood, Bend or other destinations which could take hours to get to. One of the most important factors when purchasing a second home is convenient access. Taken from first-hand experience, once the honeymoon period is over after purchasing a vacation property, it's all too easy to talk yourself out of a long drive on a Friday after work to retreat to your vacation home. However, with dozens of floating home moorages within a half hour of Portland, the much-needed escape is only a short drive away.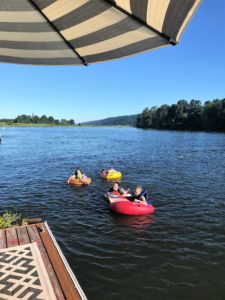 On top of relaxation, these properties afford fun and entertainment such as swimming, boating, fishing, wildlife observation, kayaking, and unlimited access to waterways, islands, and much more.
We realize that floating homes may not be for everyone, but we want to bring light to these special properties….especially given the abundance of them within a short drive from Portland. As our town continues to bust at the seams, we predict more buyers will begin to consider them as an option for their primary residence or as an escape from city life.
Currently, during the off-season, there are 36 floating homes for sale on the Portland area waterways ranging in price from $80k – $1.1M (with the median price of $266K).  Suprised? I was too when my family and I started looking and decided to buy one on Sauvie Island 2 ½ years ago. It was the best decision we ever made. Our summers and weekends are filled with memories that will last a lifetime.  Why wait for a vacation when you can live like you're on one all the time!