November 16, 2020 Update
As we all know, COVID-19 is on the rise in Oregon and Governor Brown has instituted a statewide freeze. At Inhabit, we are committed to keeping the health and safety of our clients and agents at the forefront of everything we do. Strict office policies are in place to ensure a safe work environment. We also updated all of our client engagement protocols so the health and safety of our clients come first. Last March, we launched our Couch Concierge service that brings the entire home buying and selling process to our clients. Everything from virtual open houses, live video showings with our agents, to virtual contracts and closings.
Here is a recap of how we continue to tailor and improve our services during COVID-19: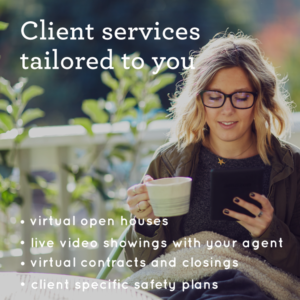 Our sellers shouldn't worry about canceled open houses. We will create a digital marketing campaign that brings your house to potential buyers all without risking anyone's health or safety. Our agents will tailor a showing plan that you feel the most comfortable with.
We have a lot of active buyers right now. To short-list property options, we offer live video tours. Your agent will walk you through the property showing you every nook and cranny with honest feedback on quality or construction issues they see– all from the safety of your home.
In-person tours of your "must-see" homes are still an option in most cases when necessary, but with precautions we take very seriously. Our agents are following the recommended 6 ft of social distancing, mask-wearing, and strict hand-washing and disinfecting policies. We will not show homes to anyone that has cold or flu symptoms or has had any exposure to COVID-19 within 2 weeks of the showing. As your agent, we promise you the same courtesy and will pair you with another Inhabit team member to safely show you the home if we are under the weather or are concerned about personal exposure. Your agent will provide our COVID-19 Safe Showing Policies for your review prior to visiting any property in-person so you can make the best decision for your health and safety.
As a small business, we put the care of our clients and agents first. We are all in this together. We promise to use integrity and knowledge as our guiding force.
Here's to peace, health, and prosperity for all of us in the coming months.
Eric