Do you fancy yourself an electrician? Perhaps a plumber? Certainly a painter? If you are anything like me, you may think that the easiest, quickest and most inexpensive solution to your home improvement needs is you, your trusty hammer and a reliable YouTube tutorial. Over the past year the DIY industry has been in full swing as more homeowners have been tackling their own house projects. From the bathroom to the garage and everywhere in between, the yearning to correct that wonky cabinet door, replace a loose shower tile or build a backyard fence is evident and the solution clearly in your hands. Yet, homeowners have reported spending an average of $184.13 to fix their failed DIY house projects, according to a new survey from Cinch Home Services, a home warranty company.
These are the most common DIY fails, according to the survey: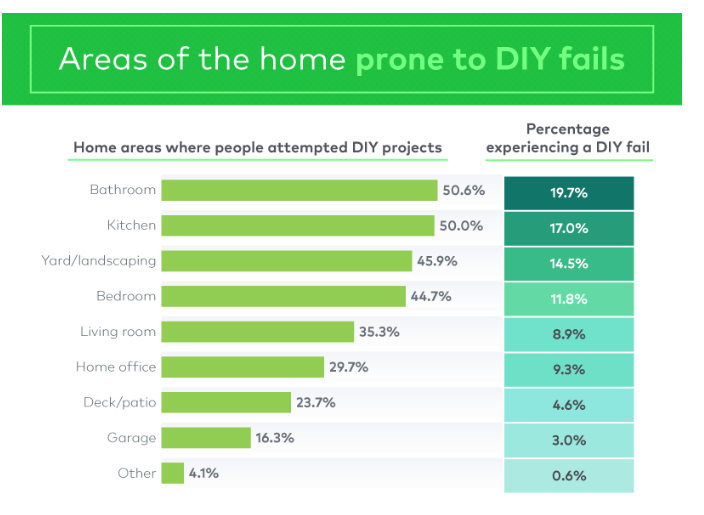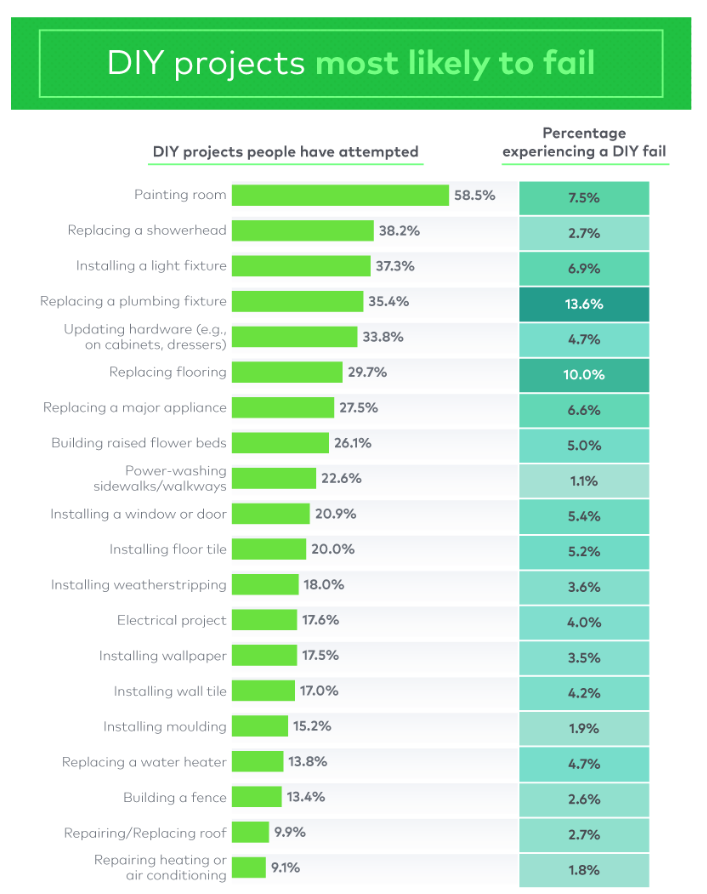 If you are all right in handing over the hammer to a professional, from roofers and landscapers, to chimney and foundation specialists, I've amassed an extensive list of reputable (local) vendors for your every home need. Just say the word and I will happily share a contact, or several. It's always a good practice to consult more than one vendor for ideas and pricing and never hurts to get a second opinion, aside from that of your loyal pet or significant other.
Market Update: May 2021
The strong sellers market continues to loom large. Interest rates remain at historic lows, multiple offers are the norm on well positioned homes and the average sales price ($557,900 in Portland Metro) is still on the rise. For those considering a home sale, it behooves you to take advantage of exceedingly high buyer demand and before you have any added competition in your neighborhood, with all the competition out there it is best to remain positive. Be patient and try to keep emotional decisions to a minimum – we want you to enjoy your home and your investment for years to come.
There is still a ways to go before we see an abundance of homes on the market but there are some promising signs as of late. As the economy continues to improve (along with those flush with newfound equity and aiming for new horizons), and people get vaccinated and feel more comfortable getting out, more inventory is certain to appear.
Fannie Mae reports consumer positivity regarding home-selling conditions matching an all-time high. And a realtor.com survey concluded that one-in-ten homeowners plan on selling this year, with 63% of those looking to list in the next six months.
Please feel free to reach out if you'd like a custom home analysis or have any questions.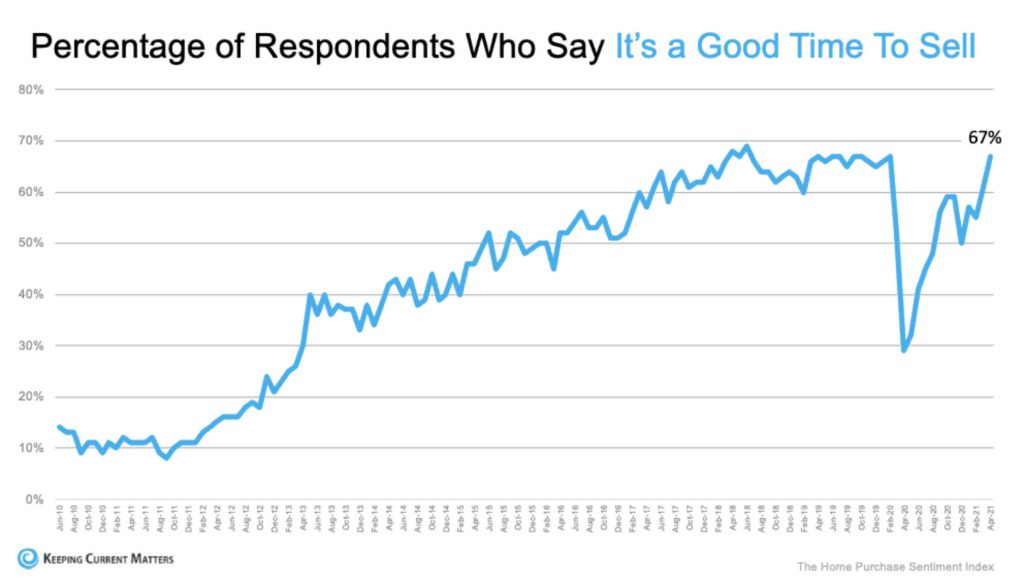 Local Artist Spotlight: Me!
For the past twenty years, I've been designing program logos and communication collateral for corporate events. These were created largely for business meetings and incentive campaigns that took savvy travelers to destinations around the globe. Sadly, these elaborate events came to a screeching halt at the onset of the pandemic. As a result, hundreds of thousands of livelihoods have been upturned, including my own; it will be some time before they return in full.
In the spirit of Beeple, the digital artist who recently created and sold the most expensive piece of NFT (non-fungible token) art, I've compiled dozens of my own creations, favorite logos from over the years. From Bora Bora to Prague, Japan to South Africa, my aim was to capture the essence of these dreamy locations within a single brand. And now for your armchair-travel-viewing pleasure. If you've been looking to jump into the crypto-currency arena and are in the market for an NFT, perhaps I can put my screen-savvy sons to task in getting this onto the EPH blockchain.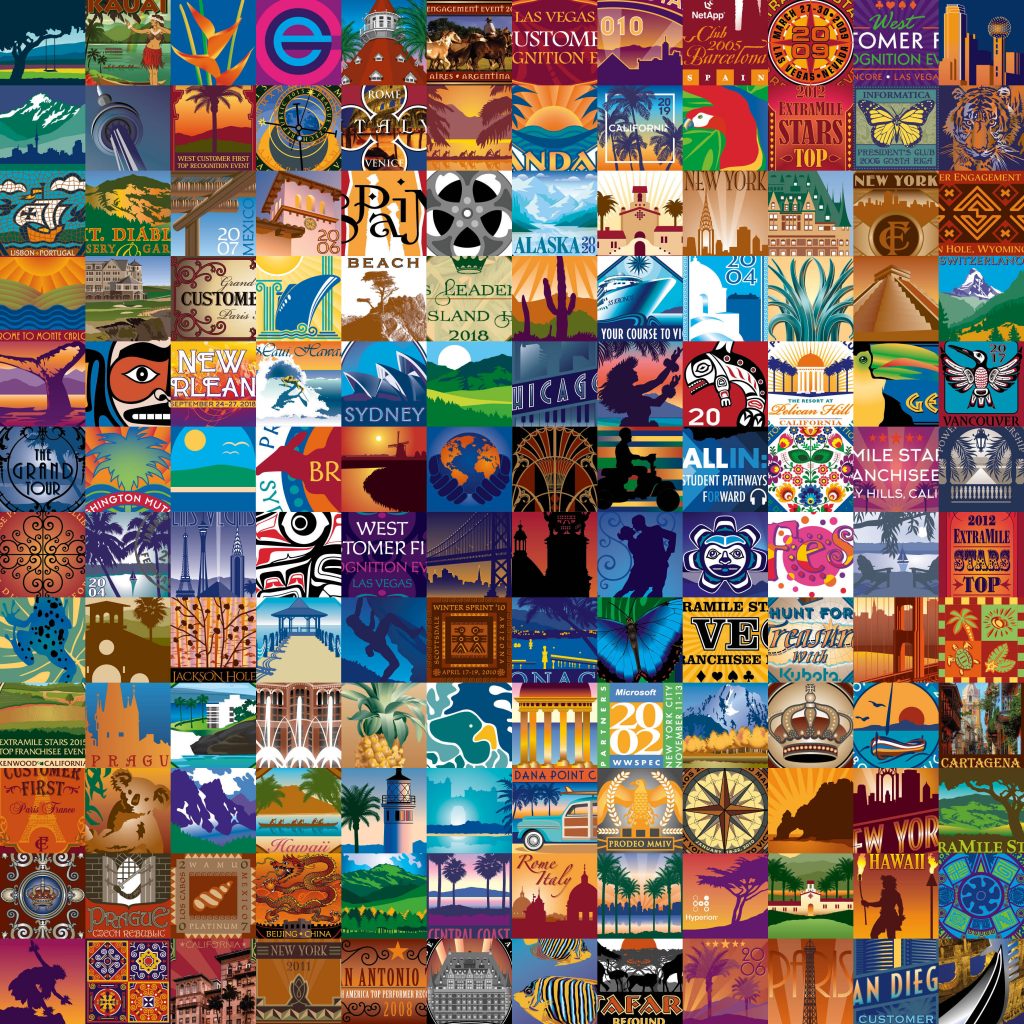 I understand most of you are relatively settled in your current homes. But if your friends, family members, neighbors and work colleagues have expressed any interest in seeking greener pastures, your referrals would mean the world to me.